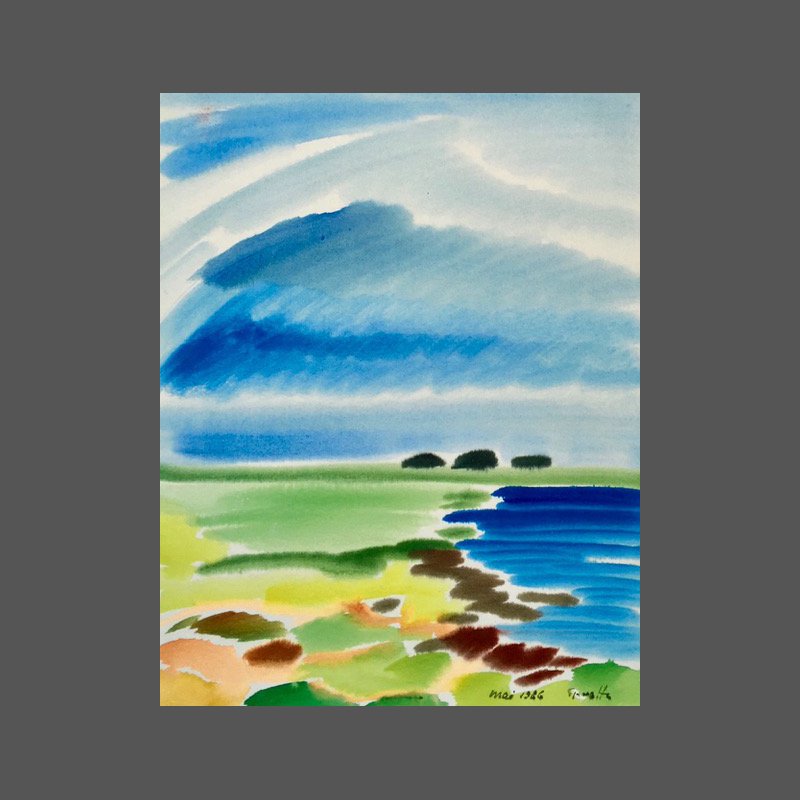 Gallery Neher, Essen
Today we have selected three paper works by Ernst Ludwig Kirchner, Christian Modersohn and Siegward Sprotte to delight you. On display are beautiful landscapes.
Sprotte's painting's are figurative and abstract, the landscape remains recognizable and yet it is generalized and abstracted to the extent that it can be grasped and experienced as a general phenomenon of nature.
The "Island in the mudflats" illustrates this phenomenon especially in the juxtaposition of different shades of green and brown. It becomes obvious, that the artist does not intend the mere representation of meadow and earth – no specific island is meant here. Sprotte is interested in capturing the spirit, the energy, the structure of the natural landscape. The painter himself describes this goal in one of his aphorisms: "In his lost confessions to landscape painting Albrecht Dürer emphasizes that even a cloud, a tree or a rock is 'full of figure' for him. Dürer overcame even then the arbitrary distinction between figurative and non-figurative approaches, which has made art history in our century".
This landscape, which was created as an improvisation in the studio, shows delicate shades of green and little brown against a high sky in the mudflats. These studio works in particular make it clear that Sprotte does not want to reproduce nature. Rather, through intensive studies and observations in nature, he came to the realization of inner connections and immanent structures of nature itself.
Andrea Fink