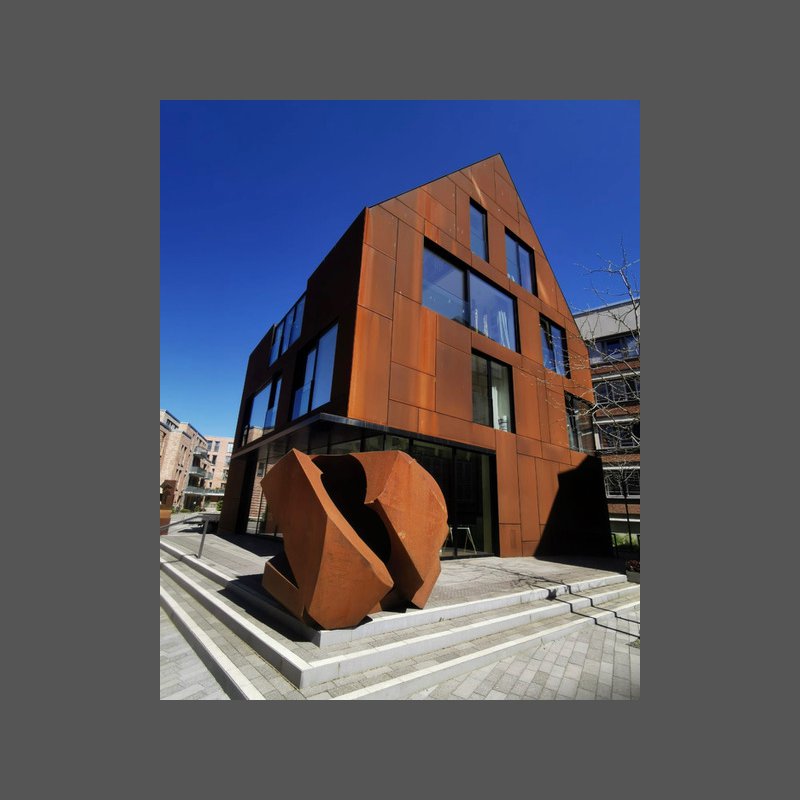 Line, Volume, Space
JÖRG PLICKAT
26th of March – 03rd of October 2020 
Campus of the Kiel University, Applied Sciences

The German sculptor Jörg Plickat works worldwide. His mostly large-format sculptures are located on four continents. Plickat is one of the few sculptors who also produces works of monumental size himself. His studio in rural Bredenbek near Kiel is more like a manufacturing plant. This is where the sculptor's works are created, some of which have received the highest international awards.
The last decade is also marked by his international teaching posts and research in the aesthetics of sculptural composition. Plickat has regularly offered workshops at the two largest universities in Madrid over the past four years. Since 2011 he has been teaching at important universities in China. In 2019 he was awarded an honorary professorship at the University of Architecture and Technology in Xian.
40 years ago, in 1980, Jörg Plickat completed his sculpture studies with a diploma at the Muthesius School, which at that time belonged to the Kiel University of Applied Sciences.
To mark this occasion, an exhibition of monumental free works by the sculptor will be held in summer 2020 on the new campus of the University of Applied Sciences on the east bank of Kiel.
Teaching activities: Universidad Rey Juan Carlos Madrid, Universidad Conplutense Madrid, Spain; Tsinghua University Beijing, China Academy of Arts Hangzhou, Tianjin Academy of Arts, Xian Academy of Arts, Honorary Director of the Shenzhen New Form Public Art Institute, Honorary Professor at the Xian University of Architecture and Technology Head of the annual national classes for abstract art in China in 2017 and 2016.